SUZHOU, CHINA (September 2, 2022) – ADIC (Aioi Nissay Dowa Insurance (China) Company Limited), and Momenta recently announced a strategic cooperation to explore new insurance services in China as autonomous driving technology continues to scale resulting in fewer road accidents. Momenta is a leading AI and autonomous driving technology company and ADIC is the Chinese subsidiary of MS&AD Insurance Group. Advances in autonomous driving capabilities for passenger cars and commercial vehicles create opportunities to introduce innovative insurance products that are more efficient and cost effective.

ADIC is committed to expanding its insurance offerings in car networking and accident reduction by developing a closed loop driving safety services and accident risk management system with Momenta's AI-based data-driven autonomous driving technology. Partnering with Momenta will enable ADIC to significantly improve the safety and efficiency of travel services and further promote development of new insurance services.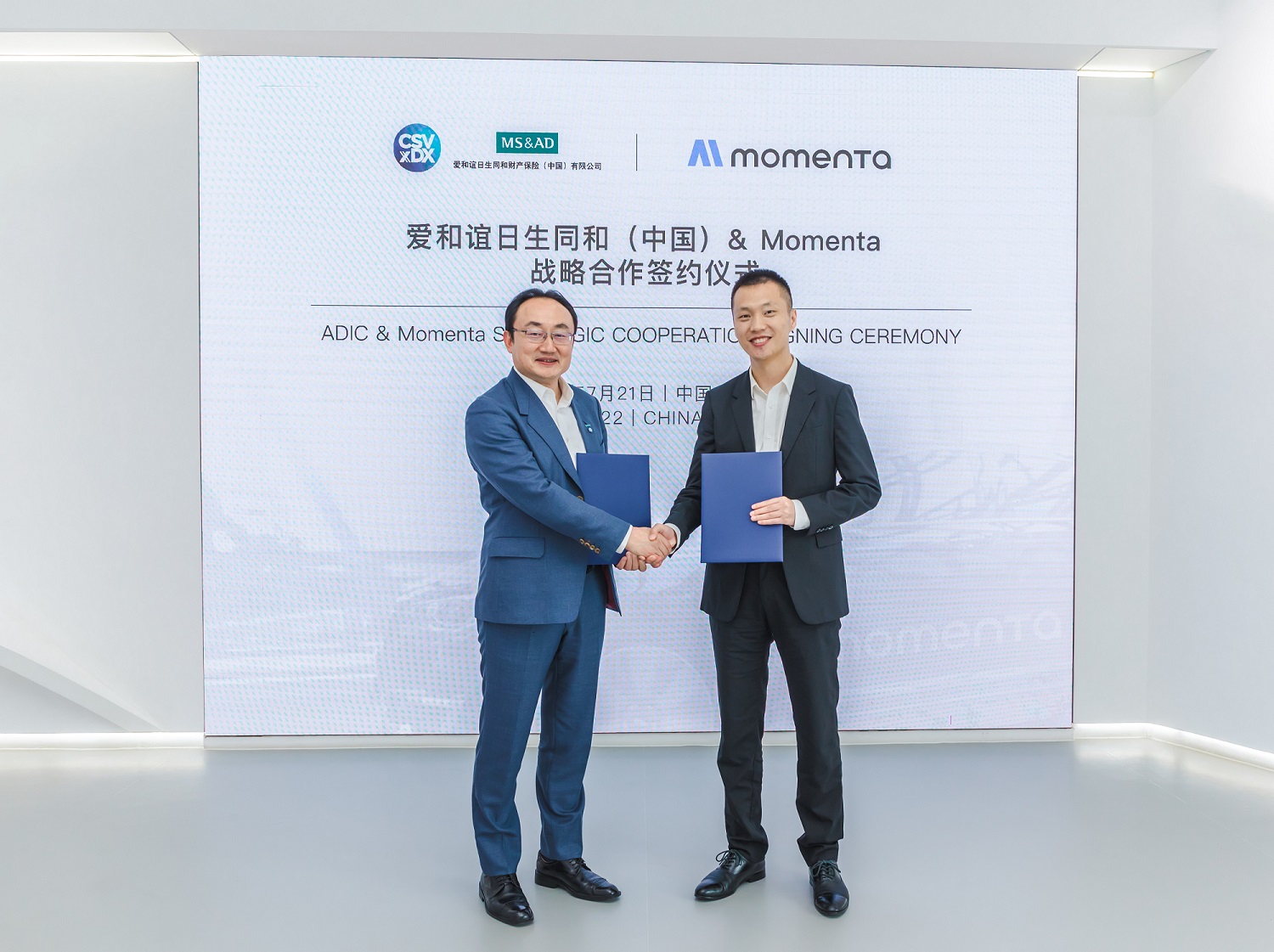 Kaei Yokota, President of ADIC, said:
"Momenta's corporate philosophy aligns with our goal of contributing to the creation of safe and secure mobility. We will be promoting initiatives that integrate Momenta's leading autonomous technology, on-board equipment and other advanced technology with the knowledge that we have gained in advanced technology needed for telematics insurance along with risk management, to reduce traffic accidents as well as to promote 'Creating Shared Value×Digital Transformation' for the autonomous driving society of the future."
Cao Xudong, CEO of Momenta, said:
"As one of the world's leading insurance companies, ADIC has developed an advanced strategy for improving safety on the road, leveraging its accumulated wealth of telematics technology as well as its expertise and know-how in reducing traffic accidents. It is a great honor for us to enter this strategic partnership with ADIC. Momenta's vision, "Ten Years, Save One Million Lives. Ten Years, Save 100% Driving Time. Ten Years, Double the Efficiency of Logistics and Mobility" places top priority on safety as well as working on tomorrow's safer intelligent mobility using innovative AI technology. In collaboration with ADIC, we will be working on the creation of a closed loop of driving safety services and a closed loop of accident risk management system."
ADIC will combine its rich experience in the field of safe driving evaluation with Momenta's self-developed in-vehicle equipment and operation management platform to launch solutions for enterprises to reduce traffic accidents in China. At the same time, ADIC and Momenta will conduct accident detection and develop accident systems through autonomous driving technology to help ensure the safety of drivers.
About Aioi Nissay Dowa Insurance (China) Company Limited
Aioi Nissay Dowa Insurance (China) Company Limited is the core company of MS&AD Insurance Group, a wholly-owned subsidiary of Aioi Nissay Dowa Insurance Company in China. It has opened two branches in China, namely Zhejiang Branch (Provincial branch, Hangzhou) and head office business department (Tianjin). Adhering to the business philosophy of "customer-oriented, integrity-based, dedicated and educating people, and challenging innovation", we provide customers with safe and high-quality insurance services, and seek long-term stable development in China's insurance market.
About Momenta
Momenta is a leading autonomous driving company committed to creating a better future for smart mobility through breakthrough AI technology. It has pioneered a uniquely scalable path towards full autonomous driving with a data-driven approach, called its "flywheel," which quickly iterates and improves its algorithms. Its "two-leg" product strategy combines mass-production highly autonomous driving solutions (Mpilot) and fully autonomous driving (MSD or "Momenta Self Driving") technologies. This strategy provides different levels of autonomous driving capability, while realizing large-scale implementation of highly automated driving solutions. Ultimately this will enable safer, more convenient, and efficient travel in the future.
Established in 2016, Momenta is expanding its business in China, Germany and Japan, and has received strategic investments from SAIC Motor, General Motors, Mercedes-Benz AG, Toyota and Bosch, among others. It was named one of the "50 Smartest Companies" by MIT Technology Review. More information can be found at https://www.momenta.ai/.